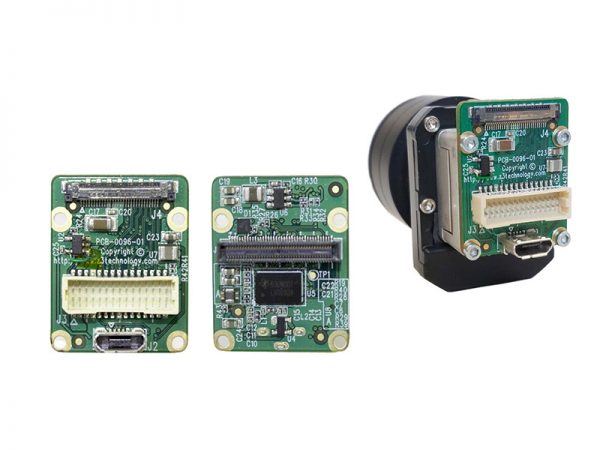 Overview
The CIB-BOS-01 is designed to enable digital video from FLIR® Boson® cameras for thermal inspection, surveillance, industrial and UAV applications. The CIB-BOS-01 provides digital LVDS video output directly from the Boson® camera.
The CIB-BOS-01 interface board is fully integrated with the dual camera family of video streaming encoders such as the FV4K-DCK-1x, FV2K-DCK1x and FSDI-DCK-1x. The FlexIO™ connector system allows for a single, convenient connection to send power from the encoder to the camera, pass video from the camera to the encoder and control/configuration from/to the encoder. The CIB-BOS-01 paired with Z3's camera solution encoders create a complete solution to capture, store and stream IR video.
The USB 2.0 jack on the CIB-BOS-01 board allows for an additional power option for the camera and access to the camera's configuration. Connecting to a computer via USB allows for offline configuration using the standard FLIR® Boson® tool.
FLIR® BOSON® Digital LVDS Output Board
CIB-BOS-01
Features
Attaches to the FLIR® Boson® Camera Body
LVDS Digital Video Output
Direct Connection to Z3 Technology's FV2K, FV4K, FSDI Dual Camera Encoder Family
Documentation
Specifications
Related Products
Dual Camera Full HD Encoder

Dual Camera Full 4K Encoder

Full HD Dual Camera SDI Video Encoder