The ability for encoders to handle multiple HD channels and send multiple destinations is a must in applications such as live event broadcasts that need broadcast on different media outlets. This demand is only increasing as broadcasters continue to innovate and upgrade infrastructure. This use case highlights an efficient, cost effective set up for encoding multiple channels over SDI.
The Set Up:
At a live event, broadcasters have multiple cameras in use, and need the flexibility to stream multiple channels to different destinations without sacrificing quality and with minimal set-up.  
How it Works:
One ZEUS® MVE-250 video encoder receives content from four 3G/HD SDI video sources and utilize ASI to send the video to a microwave network. From here, the Broadcast Network can decode and make the content readily available for Affiliate Station(s) and consumer viewing. With the flexibility of the MVE-250, users have multiple configuration options. One MVE-250 is utilized to sent two channels over Ethernet to two different Content Delivery Networks (CDNs), Web Servers or Social Networks.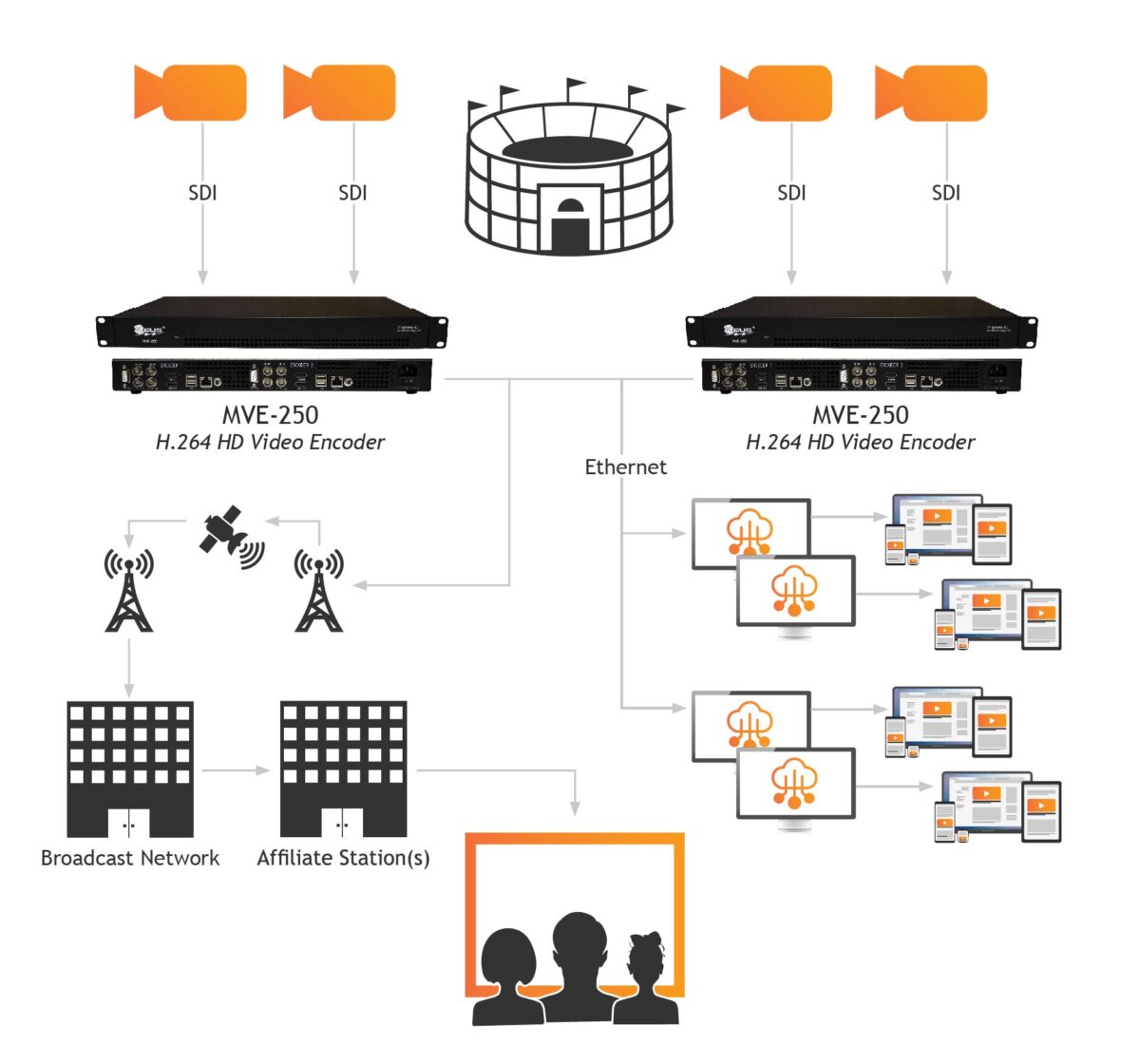 Product Advantages:
By utilizing two dual channel video encoders together, you can not only stream HD video from four sources utilizing H.264, you are able to provide a stream for both traditional broadcast and and social networks.
High Quality – Users are still able to take advantage of the high quality H.264 full HD video encoding or decoding on both channels.  
Cost Efficient – The above set up only requires the purchase of two pieces of hardware for four channels. This saves users from purchasing separate pieces of hardware for every channel required to stream, ultimately leading to simplification of the overall system architecture.
Flexibility – The system is capable of Encoding or Decoding a stream. The system provides a dual channel Encode or Dual Channel Decode solution for a Point to Point set-up. 
Easy Set-up – Ability to import settings and save your configuration in the easy to use Web User Interface
Forward Error Correction – Zixi Encoder Caller and Receiver integration or built in Pro-MPEG allows for challenging network set-up options.